Home Care Services
for Veterans and Surviving Spouses

Become a Provider
Start providing services for Veterans and surviving spouses today.

Veterans Home Care
Are you a Veteran or someone caring for a Veteran? See how AVCC can help.
Bathing
Light Housekeeping
Transportation
Meal Preparation/Feeding
How to Start Home Care Services
Screening
We know how difficult it is to navigate the VA and everything it offers. That's why AVCC jump-starts your process with a comprehensive screening. We want to align your needs, qualifications, and eligibility with what's available to you.
Prepare and Submit Application
Ready to get the ball rolling? We'll help you prepare and submit your application in a timely fashion so you can start receiving the benefits you're entitled to more quickly and efficiently.
Arrange for Care
Once everything's been processed and it's time to set you up with a home care provider, AVCC will help foster the process and find the perfect solution for you.
Navigate and Monitor Process
We'll keep close tabs on your application and what the next steps are for your unique situation.
About AVCC
Our mission is to successfully assist Veterans and their surviving spouses in obtaining the benefits they deserve under the Veterans Administration's Aid and Attendance pension, so they can receive quality home care services they need to stay in their homes.
AVCC provides the easy process of filling out paperwork, finding which services Veterans qualify for, and the extensive home care network needed to find the local answer to their needs. We understand the importance of caring for a loved one and will help you get the home care help they need.
https://avcchomecare.com/wp-content/uploads/2020/12/arrange-for-care_Caregiver-massaging-hand-of-senior-woman-at-home-495x40-m.jpg
400
495
Mary Grace Buckley
https://avcchomecare.com/wp-content/uploads/2018/06/247-530d2a2ec2af0f8b3641f9c0bfa63a35-avcc-logo-test-2-2-.png
Mary Grace Buckley
2021-01-18 09:00:00
2021-01-15 13:55:47
What Survivor Benefits Can Veterans' Spouses Receive?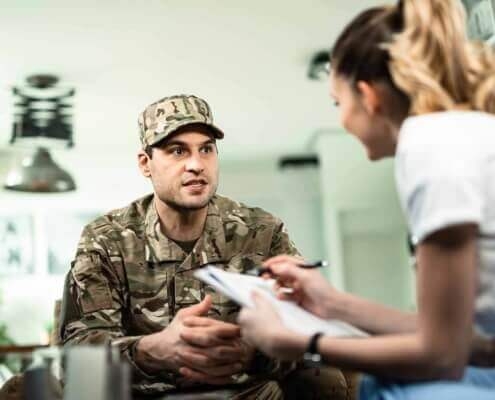 https://avcchomecare.com/wp-content/uploads/2020/08/How-The-VA-Uses-ADLs-to-determine-your-Aid-Attendance-Benefit-August-Blog-2-495x400-1-1.jpg
400
495
Mary Grace Buckley
https://avcchomecare.com/wp-content/uploads/2018/06/247-530d2a2ec2af0f8b3641f9c0bfa63a35-avcc-logo-test-2-2-.png
Mary Grace Buckley
2021-01-04 09:00:00
2021-01-20 20:16:00
What to Know When Applying for VA Benefits
https://avcchomecare.com/wp-content/uploads/2020/12/adult-interviewing-nusrse_december2.jpg
1250
2000
Mary Grace Buckley
https://avcchomecare.com/wp-content/uploads/2018/06/247-530d2a2ec2af0f8b3641f9c0bfa63a35-avcc-logo-test-2-2-.png
Mary Grace Buckley
2020-12-28 09:00:36
2020-12-30 13:50:58
How to Choose a Home Health Care Provider